Coupons
Whether you need a perforated coupon as part of your brochure, or a separate piece, we can help. With a team of marketing experts and designers, we can work with you to develop a product offer that is sure to grab the attention of your audience. Our state-of-the-art equipment can produce coupons in basic black and white, eye-catching full-color, and everything in between.
Coupons are a great marketing strategy to help the consumers control their expenses and at the same time help the producer or retailer increase their sales.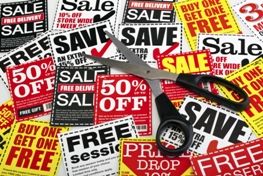 Ready to get your next project started?
Contact us online or call us today.