Notebooks
We can produce notebooks customized for your corporation, client, or project. We can print on virtually any size, shape, texture, and color you can imagine from recycled papers to bright colored stock. Or, if you're ordering a smaller quantity, we can simply insert covers and spines.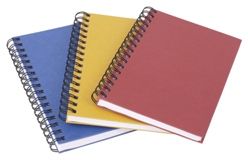 Ready to get your next project started?
Contact us online or call us today.